The CTA CPD 1 "Aquaphobia Coach" includes learning content which takes place within a 3D Virtual Leisure Centre, available as an online classroom (streamed from the internet) or viewable on iPhones, Tablets, PC's, Macs and Android technology. Includes an STA endorsed e-certificate.
The educational environment is made up of a 3D leisure centre that consists of a reception area, a classroom, a changing room, café and a virtual pool. Structured within a 3D world, in first person, the Aquaphobia Coach (A.C) is taken through the content engaging with real-life, swimmer characters. Meeting each one in the reception to hear their own stories, how and why, they became Aquaphobic. A.Cs will be directed to the café to undertake an induction using the (ALP) tool kit.
There we focus on one main character, Anne-Marie who will become your first Aquaphobia client. Also, travelling to the classroom, to attend each of the 3 key teaching sessions. Try the interactive virtual pool, teach with the avatars. Once you have completed CTA CPD 1 you can then undertake our advanced CTA CPD 2.
CPD Value

1 STA CPD Point
5 CIMSPA CPD Points

Cost

£89.99

Offer exclusive to STA members: 3 months free trial membership to www.instituteofaquaphobia.com (upon completion of CTA 1) plus PDF download of CTA course books.

Validity of Programme

Aquaphobia Coaches will be required to do a 2 hour update training session per year (charged at £29.99)

Length of Programme

Approximately 10 hours

Programme Information

This programme covers:

Introduction to primary emotions
Understanding the roots of fear, phobia and aquatic stress
Facial feedback and transference
Sensitisation, panic and hot spots
Virtual Reality (interactive practical in a 3D pool with avatars)
CTA circles of swimming (Kind v Vicious)
Uncontrolled and controlled breathing "paced respiration"
The ALP water-based activities and exercises
Psychological safety control

Assessment Criteria

10 sets of questions and digital assessment.
Save money with our bundle option:
You can make a big saving when you buy CTA 1 & CTA 2 at the same time as a bundle version. CTA 1 must be completed before taking CTA 2. CTA 2 courses run on a regular basis, so you can plan in your study time to suit your work schedule (flexible learning).
Select Format
For anyone who does not want to download the App version on to their computers or devices. All you will need is web access to log onto and complete the 25 units. There are 10 quizzes that act as learning checks.
This is a downloadable App with a 3D player, that is installed onto hard drive of your PC computer. Comes with installation instructions and customer support.
This is a downloadable App with a 3D player that is installed onto the hard drive of your Mac computer. Comes with installation instructions and customer support.
Additional Resources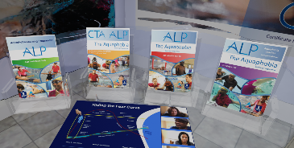 The ALP FastTrack user's guide (Green)
Summarises the details of the courses and the products with the end users comments.
The ALP Orange Book
Pre-learning & Activity Sheets for CTA have been supplied to you prior to entering the course to gain key facts and knowledge needed to be able to complete this digital training programme. Please allocate sufficient time to read and digest this. As part of the CTA App, you will have access to video footage of the ALP Stages 1-12. The videos are a combination of Aquaphobic real clients and professional demonstrations. This is complemented by five different heartfelt video interviews with people who talk about why they are so fearful of water. Looking into what caused their phobia and how seriously it has affected their lives' and consequently that of their family and friends. Included in this book are numbered Activity Sheets, these will be used extensively over the course, you can refer to them at any time.
The ALP Red Book
The A,C's Tool Kit, describes how Aquaphobia Coaches can undertake the interview process during the client's induction, at their first lesson on their ALP aquaphobia course. This book includes a scripted dialogue and a numbered check list of the important items covered at the interview. Please complete each section, you can also leave notes at the bottom of each page.
The ALP Mauve Book
ALP Stages 1-12 Aquaphobia Coaches Instruction Manual
A fully qualified instructor takes participants through an individualised and graded programme of aquatic activities. This allows the participant to gain confidence whilst at the same time learn the basic principles of enter, stand, float, move and breathe in the water. This book provides a qualified A.C with the complete step by step guide to teaching ALP Stages 1-12 in the pool. The instructions for each stage are clearly laid out in three columns: 1. Teaching Activity 2. Teaching Points 3. Top Tips (For each activity within the programme) Go with the ALP flow.