STA Launch New Baby and Pre-School Qualification
Posted on 14th October 2019
New Baby and Pre-School qualification launches today with learner-friendly updates, high quality resources and a colourful new book-bound teaching manual!
In accordance with Safety Training Awards commitment to ensuring qualifications continue to meet the needs of the industry, employers and learners, today the team are launching the new STA Level 2 Award in Aquatic Teaching – Baby and Pre-School Swimming, alongside a colourful new book-bound teaching manual, new-learner friendly resources and an online Tutor Up-Skill CPD.
Kaylë Brightwell, Head of Qualification Development explains: "The baby and pre-school qualification is one of our most popular aquatic teaching qualifications and to ensure it maintains its market-leading quality status, we have reviewed and developed the content to make it even more learner-friendly while also raising the bar when it comes to preparing learners for employment as a baby and pre-school teacher."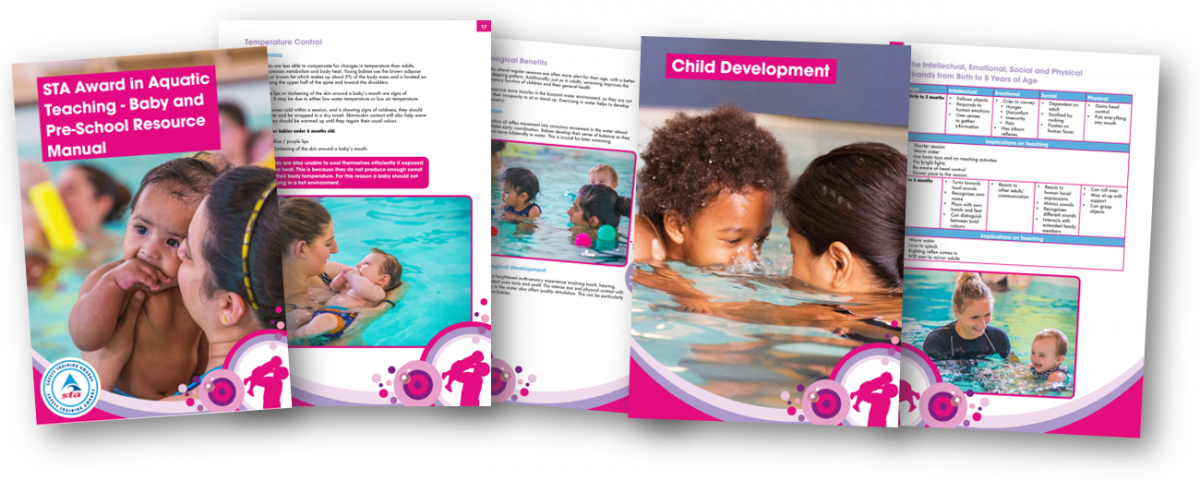 "Although there are no significant changes to the technical content, the qualification units have been updated to include more detailed practical elements, which learners will be assessed on to show practical competency. Learning outcomes have also been amended to ensure learners are assessed on the essential elements of baby and pre-school swimming. The learner portfolios and supporting resources have been rebranded too," confirmed Kaylë.
In support of the launch, the new qualification will also come with a high-quality book-bound printed teaching manual featuring a vibrant new design and easy-to-follow chapter layout.
Kaylë said: "We are thrilled that our baby and pre-school manual has joined the 'book club' alongside our other Aquatic teaching qualifications. Creating high quality manuals and Tutor and learner resources to support our suite of qualifications is an important part of our proposition; they not only aid teaching and enhance learning in and outside of the classroom, they also serve to reflect the quality of our 'product'."
For STA Baby and Pre-School Tutors all the updates are explained via the new online Tutor Up-Skill CPD here.
Note: All current STA Level 2 Award in Aquatic Teaching – Baby and Pre-school courses registered will be honoured by Safety Training Awards until 31st December 2019.