STA Award and STA Certificate in Teaching Swimming Qualification Resource Update
Posted on 23rd May 2022
Following the previous technical notice, Safety Training Awards (STA) are pleased to announce the STA Award in Teaching Swimming and STA Certificate in Teaching Swimming updated qualification resources are now available on STA Online.
The resources have been updated to reflect the theory assessment change from worksheet assessment to MCQ assessment and can be downloaded from STA Online now, allowing Approved Training Centre staff to familiarise themselves with the changes.
Updated resources include:
PowerPoint presentation
Insert PowerPoint presentation slides
Suggested timetables
Practical marking sheets
Tutor assessed skills sheets
Sample MCQ papers
Qualification specifications
Assessment strategies
Learner portfolios – containing the schemes of work, lesson plans, lesson evaluation forms, risk assessment and revision sheets.
The insert PowerPoint presentation contain the slides effected by the MCQ changes, meaning tutors can just update these slides in their established presentations.
Learners are still required to complete to a competent standard; schemes of work, lesson plans, lesson evaluation forms, risk assessment as per the qualification assessment, these are included with the smaller learner portfolio. There have been slight amendments to these forms to allow for tutor feedback, as these must be marked by the tutor and are subject to quality assurance activities.
Revision sheets are within the learner portfolio and can be completed during the course or as homework. The revision sheets do not form part of the summative assessment, they are a learning tool and do not need to be kept by the Approved Training Centre.
The new MCQ assessment papers will be sent out from 6th June 2022. The new resources and assessment method must be used from Monday 20th June 2022. The resource manuals for the qualifications remain unaffected by the assessment method changes. Details of the MCQ pass marks and timings can be found within the updated qualification assessment strategy.
The multiple-choice question assessment papers will be sent out two weeks prior to the course start date in a sealed envelope. All MCQ assessments must take place in examination conditions under the supervision of the course tutor. Learners must pass all units in order to pass the theory assessment. All MCQ assessment papers must be second marked by an external person, such as the external assessor to verify the results. If a learner fails a unit, they are only required to retake the failed unit, and this must be completed within 6 weeks of the assessment date.
For further information on the MCQ assessment procedure please read, STA Multiple Choice Question Paper Assessment Guidance v19.1.
Resources Required for the Courses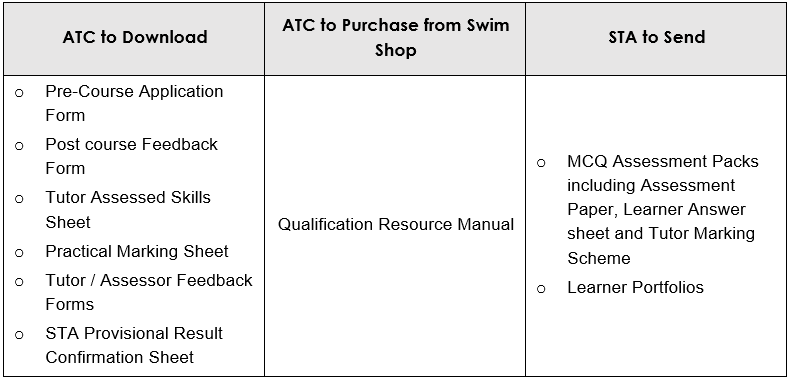 What to do with the Resources Post-Course

If you have any questions regarding these requirements or would like to deliver these qualifications, please do not hesitate to get in touch with us.