Safety Training Awards is receiving a lot of questions about internal quality assurance, in particular about sampling and what the role of an internal quality assurer (IQA) is. As we are committed to supporting our centres and maintaining standards for STA regulated qualifications, we have produced the below guidance for the main areas in question.
What is Internal Quality Assurance and Why Do We Need It?
Internal quality assurance is a process to maintain high standards for assessment activities. It also ensures that assessors and tutors make consistent, reliable and valid assessment decisions.
Quality assurance is fundamental to ensuring quality within the learner journey—this is dependent upon how the centre manages a learner's experience when delivering the qualifications. It is a vital part of the process to guarantee that the learning experience is a positive one and that everything put in place within the centre meets the requirements set out by the awarding organisation.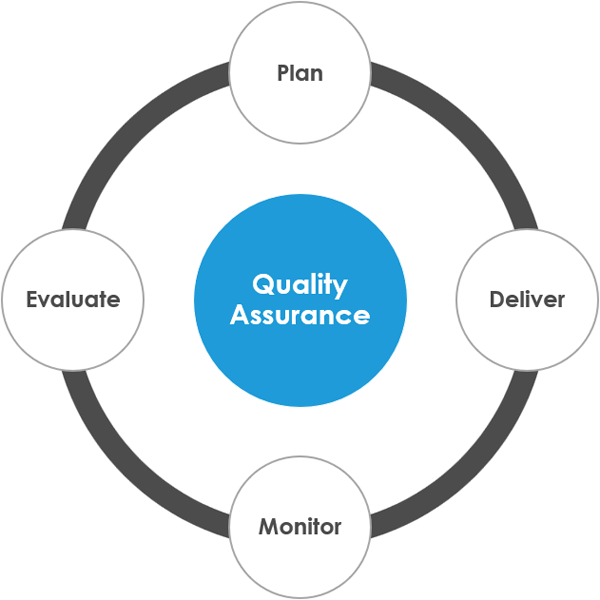 An internal quality assurance strategy should be developed to ensure that quality assurance is maintained not only in the standards of assessment but also in the administrative procedures and systems in place within the centre. The monitoring of all aspects of the assessment process through the strategy will allow the centre to be pro-active and progressive in continually improving standards.
What Qualifications Does an IQA Need?
Safety Training Awards accept the STA IQA Up-Skill CPD for IQAs to operate within one of our approved training centres (ATC). We do recommend that IQAs have occupational competency in the discipline(s) for which they are carrying out internal quality assurance monitoring activities for.
We also recommend that an IQA holds a formally recognised Level 4 Award in the Internal Quality Assurance of Assessment Processes and Practice qualification (or be working towards this).
What Are the Responsibilities of an IQA Within an ATC?
It is the responsibility of an IQA to maintain high standards of assessment activities and to report on those standards. The IQA should not be involved in the delivery and assessment of the qualifications and they cannot verify their own assessment decisions; they are in place to verify the decisions of other assessors. The IQA is there to ensure that the qualifications the centre delivers are reliable, valid and meet Safety Training Awards' and regulatory requirements.
The IQA is responsible for monitoring the learning journey. Below are some examples of IQA responsibilities:
Creating a sample plan (strategy) of what will be monitored, from whom and when
Observing assessor performance and providing developmental feedback
Confirming or challenging assessment decisions when needed
Supporting assessors and sharing best practice ideas
Facilitating training and standardisation of assessor practice
Documenting and reporting internal quality assurance monitoring, training and standardisation.
What is Sampling?
Correct sampling involves reviewing the quality of assessment decisions by evaluating how assessors have reached that decision. The IQA reviews the judgements of the assessor to ensure they have considered everything correctly. The IQA must be able to follow an audit trail which demonstrates that assessors have checked the evidence meets the following requirements:
Valid: Does the evidence relate to the assessment criteria?
Authentic: Was it produced by the learner in question?
Sufficient: Has the assessment been marked in accordance with STA guidance and answer sheets?
Current: Is it sufficiently recent so assessors are confident that the same level of skills, understanding and knowledge exist at the time of awarding the qualification?
Reliable: Is the evidence consistent across all learners, over a period of time, and at the required level?
The IQA will collect samples of assessment activities that are carried out within a centre. There are a number of sampling methods that can be used to ensure that quality assurance standards are maintained—below are some popular methods:
Formative (Interim) Sampling

This method is used whilst the learner is completing different stages of the qualification, it will ensure the assessment of learners are proceeding to an acceptable level.

Summative (Final) Sampling

This method is when the IQA reviews the quality of the assessment decisions made by the assessor; the IQA should be able to follow an audit trail which clearly demonstrates what judgements have been made.
The IQA must document and report all sampling in sufficient detail to justify what decisions have been made.
The IQA must carefully plan their sample to ensure that it is large enough to make an accurate decision relating to the quality of assessment evidence and that the sample covers all types of learners, assessment evidence, methods of assessment, assessment locations etc. This way the IQA can be assured that the sample is representative of the assessment population and that the evidence which is not reviewed is likely to be of the same standard.
In order to sample correctly the IQA must create a sampling plan (strategy). The centre which the IQA is allocated to must have implemented internal quality assurance procedures—this will determine the rationale for the sampling. Due to different levels of risk or requirements, the sampling plans may differ from qualification to qualification or from site to site. City & Guilds 2012 refers to the acronym 'CAMERA' and states that sampling should include evidence from different types of:
Candidates/learners
Assessors
Methods of assessment
Evidence
Records
Assessment sites
What is a Sampling Plan (Strategy)?
A sampling plan (strategy) is a method used by an IQA to make judgements about the quality of assessment activities, evaluating samples from a number of learners and units. Safety Training Awards recommends that IQAs complete a sampling plan for a period of time to include all assessments.
A copy of the plan must be retained within the centre and made available when requested by Safety Training Awards and/or the allocated external quality assurer (EQA).
Examples of Sampling Plans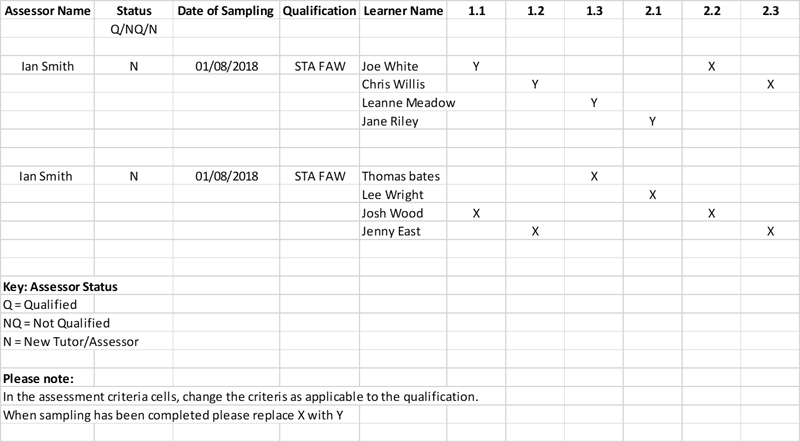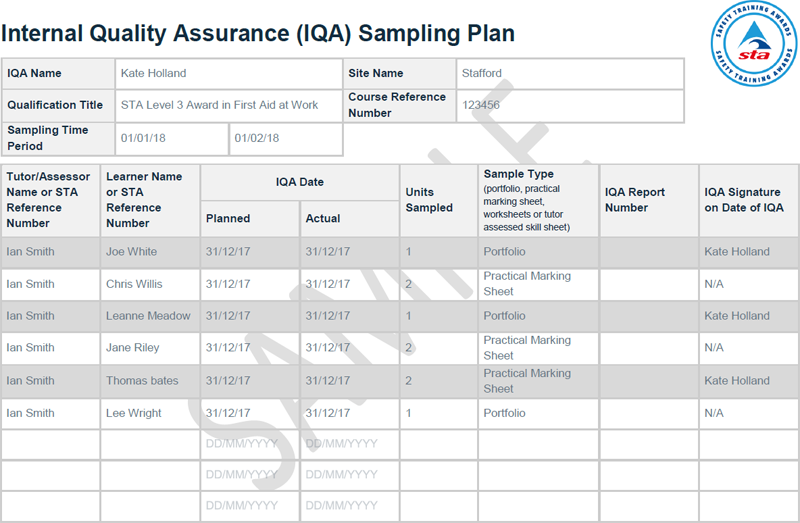 All assessors are listed along with sampling dates, qualifications, names of learners and what criteria from what units are being sampled. An IQA can use a number of sampling methods which are appropriate to the situation. Once you have sufficient information you can carry out a variety of sampling. Below is a list of some different methods that can be used:
Vertical Sampling

Sampling one unit or learning outcome across a number of assessors and/or sites.

Horizontal Sampling

Sampling evidence from a number of units or learning outcomes from one learner.

Diagonal Sampling

Sampling across a number of units, learners and assessors to view the overall quality of the course delivery.

Thematic Sampling

Sampling evidence on a specific element/activity.
Does My Sampling Plan Cover Everything It Should?
The IQA must complete a sample plan and IQA report to demonstrate the quality assurance activities that have taken place. This must be retained for inspection by the external quality assurer (EQA). A sample plan must be completed for each qualification and may cover more than one assessor.
The IQA is required to sample a full range of assessment methods used for qualifications within the centre. It is recommended that the IQA is occupationally competent in the discipline they are verifying and that they have knowledge of the range of assessment methods used. This will ensure that sufficient evidence has been gathered to make an appropriate judgement.
Determining the frequency of sampling to be carried out depends on a number of factors, please see some examples below:
Assessor's overall experience
Assessor's experience of the qualification
Previous action points for the assessor that may affect the frequency
Updates to qualifications that may affect the assessor
Difficulty of assessment methods used.
Additional sampling may be required for newly qualified assessors, assessors new to the centre or assessors who are continually not meeting the required standards.
Internal Quality Assurance Reports
Please see below some exemplar Safety Training Awards IQA documents that have been completed by an ATC—we have included these for guidance purposes only.
The exemplar IQA report includes all documented evidence that was gathered when conducting face-to-face observations during the delivery and assessment of a course.
The IQA sample document includes evidence of what the IQA saw when reviewing the learner and assessment paperwork.
Safety Training Awards make available IQA reports for download for you to complete when required. They are:
IQA sampling plan
IQA assessor observation performance
IQA tutor observation performance
IQA desk-based sampling
IQA learner interview
The IQA should try to include as much information as possible to show what evidence they have seen, the assessment criteria sampled, feedback gathered and details of any actions that were taken based on the evidence.
Further Information
Read the Full IQA Procedures
Provides the full information and procedures for internal quality assurance for approved training centres.
Read the Approved Training Centre Manual
Everything to support ATCs in the delivery, assessment and quality assurance of our qualifications.
Contact Your Allocated EQA
Your allocated EQA will be able to support and guide you on your internal quality assurance activities.